90th Annual Meeting and Dinner
West Virginia State Society
Sons of the American Revolution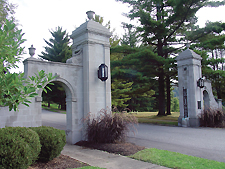 Sonneborn Gates, Wheeling Park
The Fort Henry Chapter( www.fthenrysar.org) is hosting the WVSSAR 90th annual meeting and dinner on Friday, April 21, in the Club Room of the W.E. Stone Clubhouse, Wheeling Park, 1801 National Road. The cost is $50 per guest.  Dress  is black tie with decorations or Colonial attire, but neither option is required. Please click HERE for the Annual Dinner response device and send it with your remittance to arrive no later than April 14 to:
Jay Frey, President
Fort Henry Chapter
4 Arlington Drive, Apt. 1R
Wheeling, WV 26003-5666
jameshfrey@gmail.com
(304) 312-1787
The WVSSAR Board of Management will meet at 5:00 at the dinner venue to elect the slate of officers and board members.
The evening begins with a cocktail hour at 6:00 and the buffet dinner and program commence at 7:00. Guest speaker is David T. Javersak, Ph.D., Professor Emeritus of History and Dean Emeritus, College of Liberal Arts, West Liberty University, whose presentation is "A Revolution of Principles."
Menu:
Prime Rib
Stuffed Chicken Breast
Whole Green Beans with Baby Carrots
Parslied Red Potatoes
Tossed Salad
Roll & Butter
Dessert
Coffee Station
Suggested Lodging Options:
Wilson Lodge, Oglebay Resort
Route 88 North, 365 Lodge Drive
(877) 436-1797; www.oglebay-resort.com
Deluxe room in the Byrd Wing: $109/night; Military/Veteran rate: $101.15 plus tax and gratuities
AARP or AAA 10% discount
Hampton Inn
795 National Road
(844) 289-8469; www.hilton.com/Hampton Inn/Wheeling
Rates from $119 to $139/night; rates at $129 and above include breakfast
McLure Hotel
1200 Market Street
(855) 516-1090; www.themclurehotel.reservations.com
Rates from $55 to $149 and include breakfast