On behalf of the officers and members of the Tygart Valley Chapter, West Virginia Society, Sons of the American Revolution, we extend our most sincere condolences to the family and friends of Warren Andrew "Andy" Losh, who passed away on Thursday, October 08, 2015.
Warren Andrew "Andy" Losh was a charter member of the new Tygart Valley Chapter, West Virginia Society, Sons of the American Revolution. He was also a Master Mason of Franklin Lodge No. 7 in Buckhannon WV and a member of the Osiris Shrine. For many years Warren Andrew "Andy" Losh would drive children to the Shriners Hospitals for their treatments.
WVSSAR Registrar Raymond M Kane Jr had the privilege and honor of assisting Warren Andrew "Andy" Losh with his SAR application process and his SAR application was approved August 03, 2015. His patriot ancestor was Jeremiah Stillwell, who served as a Soldier in the Bedford County Pennsylvania Rangers and who also provided Patriotic Service in Maryland.
There will be a memorial service for William Andrew "Andy" Losh on Saturday, October 10, 2015, 1:00 pm, at the:
Chapel Hill United Methodist Church
88 S Kanawha St
Buckhannon WV 26201
Below is the obituary of Compatriot Warren Andrew "Andy" Losh from The Intermountain and from the Heavner & Cutright Funeral Chapel: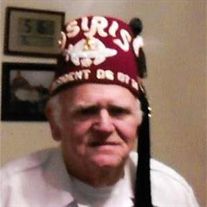 Warren Andrew "Andy" Losh, 82, of Jack Lane, Buckhannon, died Thursday, Oct. 8, 2015, at his home.
He was born April 19, 1933, in Grafton, a son of the late Orma John and Ruth Elizabeth Stillwell Losh. His mother died during his infancy, and he was raised by his father and Gladys Grimm Losh.
On July 25, 1970, he was united in marriage to Grace L. Marteney Losh, who survives.
Also surviving are two daughters, Lynn and husband, Steve Cvechko, of Charleston and Tiffany Losh of Clarksburg; four grandchildren, Brent Cvechko and wife, Lisa, John Cvechko and wife, Kara, and Caleb Connolly and Wednesday Connolly; four great-grandchildren, Abby, Gabrielle, Steven and Kambria Cvechko; two sisters, Mary Webb of Weirton and Rosalie and husband, Pete Morris, of Quincy, Fla.; and one brother, Robert Losh and wife, Jean, of Morgantown.
In addition to his parents, he was preceded in death by one sister, Flora Bloomfield; and two grandsons, Cameron and Jeffrey Connolly.
Mr. Losh was a member of Chapel Hill United Methodist Church, where he was very active with the men's breakfast group and where he was in charge of the ushers for several years. He was a member of Franklin Lodge7 A.F. and A.M. and Upshur County Shrine Club. He was very active in getting equipment donated for the Children's Hospitals and was instrumental in acquiring a van for the transportation of children to various hospitals; this was one of his greatest accomplishments. He was a member of Tennerton Lions Club, Silver-Haired Legislature, and he sat on the advisory board for the Area Agency on Aging in Petersburg.
The body will be cremated. A memorial service will be conducted Saturday, Oct. 10, at 1 p.m. at Chapel Hill United Methodist Church, with the Rev. Helen Oates and Shane Smith officiating. Private interment will be in Hunt Cemetery at Mt. Hebron at a later date.
In lieu of flowers, donations may be made to Shriners Hospitals for Children, 2900 Rocky Point Drive, Tampa, FL 33607. Online condolences may be extended to the Losh family at www.heavnerandcutright.com. The Losh family has entrusted Heavner and Cutright Funeral Chapel with the arrangements.