All Patriot Jacob Williamson had to mark his grave in Elmwood Cemetery, Shepherdstown, WV was a simple tombstone with his date of birth and death. This changed on November 8, 2014 when the General Adam Stephen Chapter, WVSSAR placed and dedicated a marker for him.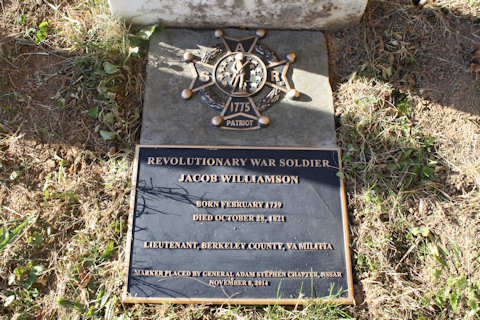 Jacob Williamson was baptized on February 24, 1739/1740 in the First Reformed Church in Raritan, Somerset County, New Jersey.  He was the son of Peter and Maria (Cossart) Williamson.
Around 1767 Jacob married Elizabeth DeGroot, who was baptized July 31, 1747 in the same church as Jacob. She was the daughter of John and Aeltie (Olden) DeGroot.
The couple later migrated to the area that became Berkeley County, VA.  This area is presently Jefferson County, WV.  They became the parents of 8 children.  Peter, born March 18, 1768; John, born December 1, 1770; Theodocius,  born July 1, 1773; Auley, born December 3, 1776; Jacob DeGroot, born July 20, 1779; David, born February 17, 1782; William, born June 28, 1784; and Mary, born September 13, 1786.
During the American Revolution, Jacob Williamson served as a Lieutenant in the Berkeley County, VA militia.  He resigned his commission on November 17, 1778.
When Jefferson County, VA was formed out of Berkeley County in 1801, Jacob and Elizabeth became residents of the new county.
Elizabeth Williamson died on March 12, 1821 in Jefferson County, VA (now WV). Jacob Williamson died on October 28, 1821 in Jefferson County, VA.  Both are buried in the Presbyterian section of Elmwood Cemetery, Shepherdstown, WV.
Jacob Williamson's will written on August 18, 1819, was probated on November 26, 1821 in Jefferson County, VA.  He willed his plantation containing 137 acres to son William and other assets to his six living children and seven grand-daughters whose fathers predeceased him.
The ceremony began with the Processional led by the new local Children of the American Revolution Society, followed by the invocation given by the Rev. Dr. Raleigh Hunter Watson, Chapter Chaplain and fourth great-grandson of Jacob Williamson.  Nicholas James Phillips, Andrew Watson Phillips, Raleigh Allen Martin and Samuel Stuart Martin, sixth great-grandsons, led the Pledge of Allegiance and  Compatriot Martin Keesecker, Chapter Historian, led the SAR Pledge.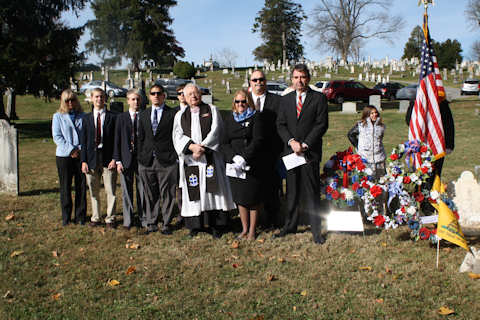 Compatriot Frank "Joe" Khare, Chapter President, welcomed everyone.   Greetings were extended by The Honorable Jim Auxer, Mayor of Shepherdstown, and Compatriot Steven D. Hart, State President, West Virginia Society, SAR.  Compatriot Hart also assisted the Color Guard by firing a salute.
Compatriot David Frank Hill III, fifth great-grandson, gave a remembrance of Jacob Williamson.  Compatriot David Frank Hill IV, sixth great-grandson was unable to attend due to attending college.
Compatriot Steven Lyle Nicewarner, fifth great-grandson, led the dedication of the marker and the 3 great-grandsons, Raleigh Watson, David Frank Hill III and Steven Nicewarner, unveiled the marker.  Closing remarks were given by President Khare.
It is important to note that two members of the Captain Ralph Stewart Chapter, WVSSAR attended and laid a wreath.  The Pack Horse Ford Chapter, NSDAR and new C.A.R. Society also laid wreaths.
Following the ceremony, a reception was held at the historic Entler Hotel in Shepherdstown.