The husband and wife team of Richard "Dick" and Norma Brockway have been active in the SAR for many years. Norma Brockway shares her husband's deep interest in the SAR and helps perform genealogical research.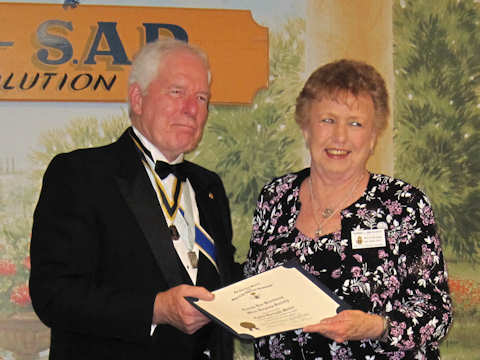 Richard "Dick" Brockway has been a steadfast and active supporter of the NSSAR and WVSSAR since his membership in the SAR was approved in 1990.
Below are listed some interesting facts about Richard "Dick" Brockway.
WVSSAR Life Member
Dual Member New Hamsphire Society and Massachusetts Society
Awards:
State Roger Sherman Medal 2014
State SAR Meritorious Service Medal 2012
State SAR Meritorious Service Medal 2011
National Minuteman Award 2009
Liberty Medal 2008
National SAR Meritorious Service Medal 2006
SAR Color Guard Medal (silver) 2006
Patriot Medal 2003
Council of State Presidents Medal (silver) 2002
SAR Color Guard Medal (bronze) 2002
State Medal of Distinguished Service 2000
State SAR Meritorious Service Medal 2000
Bronze Good Citizenship Medal 1996
State Meritorious Service Medal 1994
Patriot Ancestors:
Captain Jonathan BROCKWAY – Captain New Hampshire, Fort Ticonderoga Alarm
Archibald MACALLISTER (McALLISTER) – Captain Massachusetts – Lexington Alarm
Hateevil DAME – Private New Hampshire Militia
Positions Held:
Librarian General NSSAR 2007-2008, 2008-2009
Vice President General Central District NSSAR 2005-2006 (Council Chairman)
West Virginia Society SAR President 2000-2002, 2012-2013
West Virginia Society SAR National Trustee 2002-2004, 2013-2014
Anniversary of the 250th American Revolutionary War
Congress Planning Committee
Genealogy Committee
Historic Sites & Celebrations
History Committee
Hospitality & Music Committee (Chairman)
Library and Archives Committee
Master of Ceremonies Committee (Chairman)
Merchandise Committee
Nominating Committee (2001, 2013)
Patriot Index/Revolutionary War Graves Register
Other:
Choirmaster SAR Singers
George Washington Fellow
CAAH Contributor